Wicker Park Fitness and Southport Fitness are pleased to announce the first in a series of yoga retreats held throughout the year in scenic locales around Chicago.
SUMMER RETREAT: YOGA IN NATURE invites participants of all levels to enjoy a two-day retreat in nature. Revitalize your spirit, have fun, and deepen your yoga practice with our three accomplished teachers—Britta Eumann, Sheldon Kessel, and Christine Worden.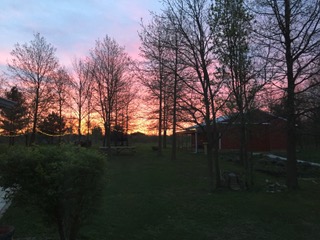 Sunset on the Purple and Bumble Farm, Monee IL
Spend two days with us on a rural organic lavender farm nestled in the countryside of Monee, IL (40 miles south of Chicago). We'll provide you with exceptional yoga classes with your favorite teachers, healthy meals and snacks, campfires, fresh air, and a welcome change of scenery. Sample fresh honey and meet the bees! Join us on a walk and talk with host Tera O'Hara, the owner of Purple and Bumble, her company that produces specialty skincare products featuring honey from bees on the 11-acre land.
Camp under the stars, relax and laugh around a campfire, and wake with the sun.
Don't wanna camp? Rent a sweet furnished cabin for $150. There's only one, so call the gym at (773) 278-8700 to reserve.
Cost for the entire retreat, including meals and campsite, is $150 for gym members, $200 for non-members and ALL are welcome!
REGISTER HERE and reserve your spot!
Retreat registration and payment for gym members
Retreat registration and payment (non-member)
YOGA IN NATURE RETREAT SCHEDULE
SATURDAY, June 22
Please arrive by 10:00am to get settled and set up campsite
10:00am-12:30pm Enjoy a Welcome Brunch and introductions
1:00-2:30pm Vinyasa and Meditation with Sheldon
3:00-4:30pm Meet the Bees! Talk & walk with Tera O'Hara
5:00-6:30pm Restorative and Partner Thai Yoga with Britta
7:00-7:45pm Delicious Dinner during Summer Solstice Sunset
8:00-9:30pm Playful Yoga Flow and Glow with Christine
9:30pm - Stargazing, campfire fun, and evening treats
SUNDAY, June 23
6:00-7:00am Tea for Early Risers
7:00-8:30am Morning Yoga and Guided Deep Relaxation with Christine and Britta
9:00-10:00am Beautiful Breakfast
10:30am-12:00pm "One More for the Road" Yoga with Sheldon
12:00-1:00pm Lunch
1:00-2:00pm Take down campsite, pack, depart
FEATURED RETREAT TEACHERS
BRITTA Eumann meets her students where they are in their practice, providing adjustments and modification for all levels while emphasizing deep relaxation for the body and mind. She leads yoga classes that are great for athletes in recovery, yoga beginners, or for anyone looking for stress relief and deep relaxation.
Britta is a certified yoga teacher with over 700 hours teaching experience as well as a Thai yoga bodywork practitioner. She is currently pursuing certification in the therapeutic practice of yoga therapy.
SHELDON Kessel believes that health is as much a state of mind as it is a condition of the body. He incorporates relaxation, meditation, and building strength into his yoga classes.
Sheldon is a private trainer at the gyms as well as a yoga teacher who has been teaching yoga for a decade.
CHRISTINE Worden leads yoga classes that are a mix of flowing Vinyasa and static poses meant to provide both a physical challenge and an opportunity to experience a mind-body connection. She combines feel-good movements in a lighthearted, low pressure environment with a proper dose of silliness.
Christine is a certified yoga teacher who considers herself a permanent student lucky enough to share her favorite thing--yoga!

Join us for our first weekend getaway retreat this summer!
Questions about the retreat? Contact Shanna at shanna.linn.29@gmail.com.